Hangzhou sweetant biotech Co., Ltd. is a comprehensive corporation in food additives industry, covering research, manufacture and distribution. It is located in the only national development zone in Zhejiang province-Hangzhou Economic and Technology Development Zone. The company occupies 68,000m2 land, including 25,000 m2 standard factory. It is well equipped with modern producing and testing equipment. There is standard management system and plentiful human resource.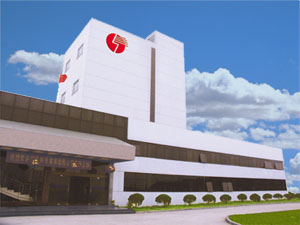 With the concept of diligence and perfection, we have been developing and innovating our products, which successfully results in having 8 categories of products with many sub-branches. Our products are being widely used in the fields of coffee, tea, oatmeal, instant drinks, dairy products, jelly, instant noodles, frozen foods, baked goods and etc. Our products are widely used in Food and Pharmacy Industry. In 1996, Nervonic acid, a biological functional substance that was researched and developed by the company for years, was put into production. The use of Nervonic acid as nutrition supplement for dairy product and the application in MS(Multiple Sclerosis) fill the international blank and the technology ranks in leading level.
To maintain the leading position, we have adopted new technologies and imported advanced production facilities on a grand scale. The company strives for excellence of the highest standard in operation and administration. We always develop new products and new applications based upon the request of our customers so as to meet their needs from the market.
Our motto is that customer is always right. We believe that the honest cooperation with our customers, diligently working, being innovating with our professional experience are key factors to obtain the trust from our customers. We also believe that maintaining and promoting our high standard brand with science and technology as well as continuous new product development is the driving force to develop our company rapidly.



Core:
Diligent, Professional and Perfect

Service:
The needs and wants of clients are our responsibility

Quality:
The high quality of the product is from the high quality of people.

Employment:
Honesty, straightness, and everybody is important

Technology:
Create new market and new need continuously

Marketing:
We sale corporation credit first and products secondly.

Management:
Everyone participates in management and everything is checked on

Profit:
Profit is just the tool to weigh the value of our existence.